Jo & Dorsey - working it all out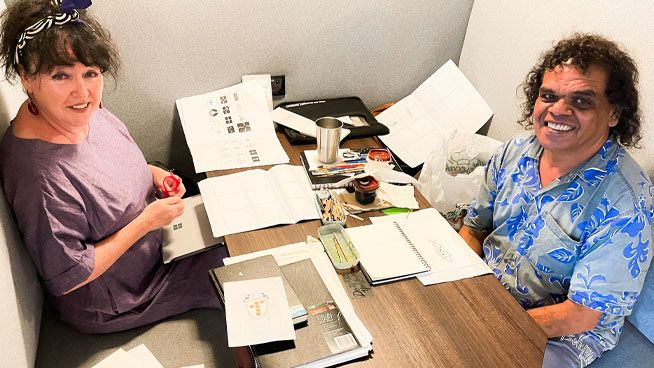 Painting V6_Story & V8_Lily and the Billabong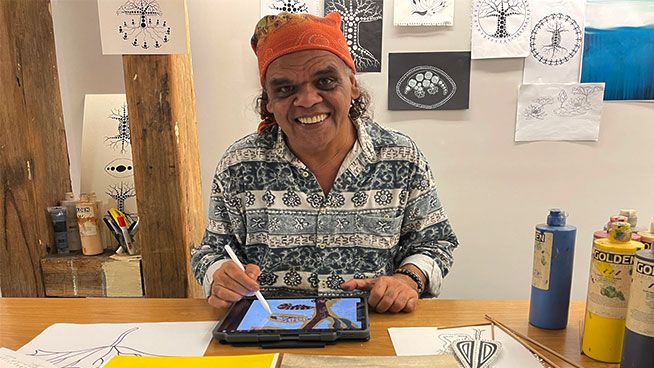 Kelly-Ann & Dorsey - working it all out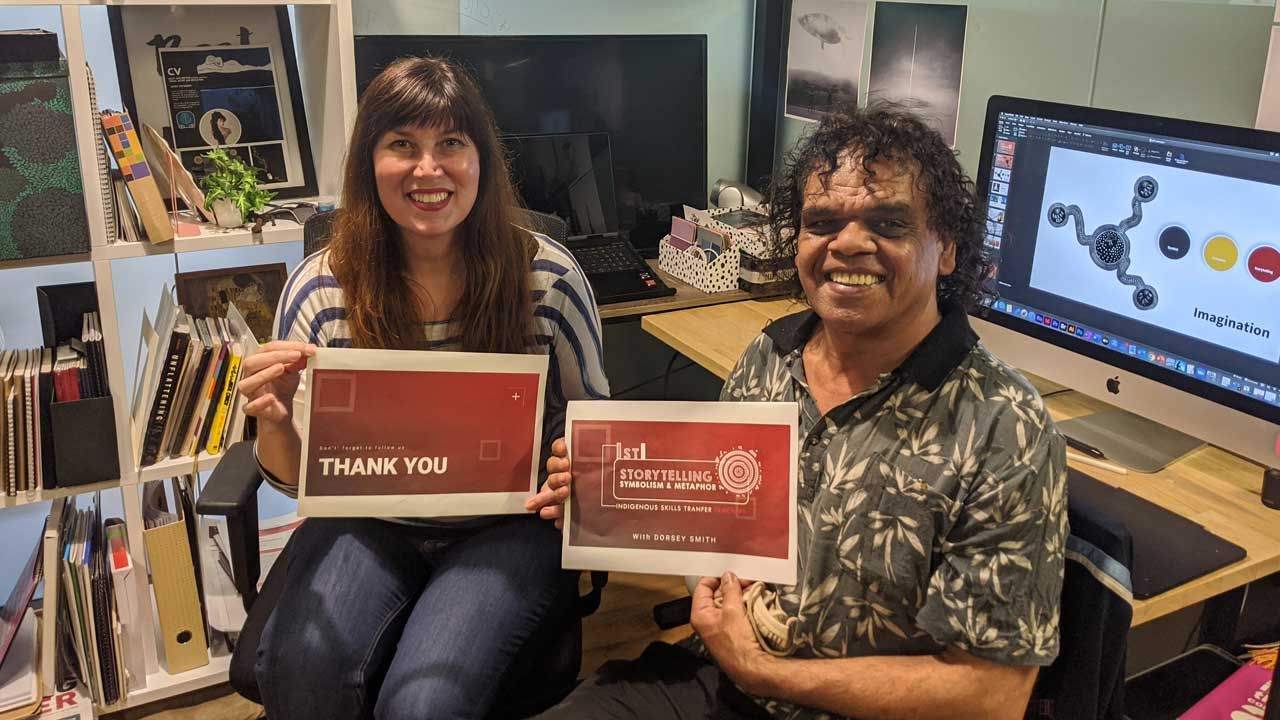 As an author and teacher, I believe anything that fires the imagination, leads to creative outcomes, and gives kids confidence in expressing themselves is a winner. We all have a story to tell, and we all have creative skills. Sometimes, however, we need a springboard to realise our imaginative abilities and give us the confidence to find our voices.
I taught English and ESL, and some Drama for twenty years in high schools in NSW. Teaching in multicultural schools opened my mind to the different ways stories are told. I learned to value the similarities and the differences in each culture's method and narrative trajectories that are non-linear.


Later, when I became an author, I spent a lot of time with Indigenous community members. I truly realised that using one model for eliciting information and storytelling was not always the best way. I have now worked with four Indigenous storytellers. Working with each of them has enriched my own knowledge as a writer and educator. I used some of the Indigenous Learning Methods in my own journey as a writer, particularly visual learning techniques.
When I was writing my two novels, I used visual learning to help me. My co-authored work Back on the Block saw me working with a member of the Stolen Generations. He told his story to me unconventionally and very visually. Recently I have been working with Lynda Holden, a Biripi woman, and with Christine Palmer, an Arrente-Kaytete elder. These storytellers have taught me more about Indigenous methods of memory recall, learning and writing, which have enriched my cross-cultural understanding. For the past year, I have been working with Walpiri man and fantasy writer and illustrator Zak Grieve, incarcerated in Darwin Prison - see below to read more on this story.

I was thrilled when I was offered to collaborate with Dorsey Smith on the V6_Story. Dorsey and I are collaborating to produce a program for primary schools that focuses on the imaginative aspects of storytelling based on Indigenous learning methods. The program is designed to be fun, educational and is about learning and sharing together. The program is art and narrative centred.
Dorsey focuses on what surrounds him wherever he is. An hour with Dorsey Smith is an hour with the senses. As he talks, you quickly become aware that Dorsey is an artist who doesn't just rely on what he sees. Dorsey's inspiration, having its genesis in Dhunghutti and Gumbangerri traditions, comes from the sights, smells, taste, sounds and touch of the land. His stories are full of descriptions about what happens to the senses as people connect and re-connect with the landscape; the crunch of leaves as you walk in the bush, the smell of eucalyptus trees, the taste of salt, the sight of the sun setting over the hills, the touch of bark as you run your hands down the trunk of a tree.

In the recent past, Dorsey has been creating, painting, drawing, sculpting, writing songs and making short videos. He has recorded stories in both Dunghutti and English with images he has made. He says he wants people to soak up what they feel.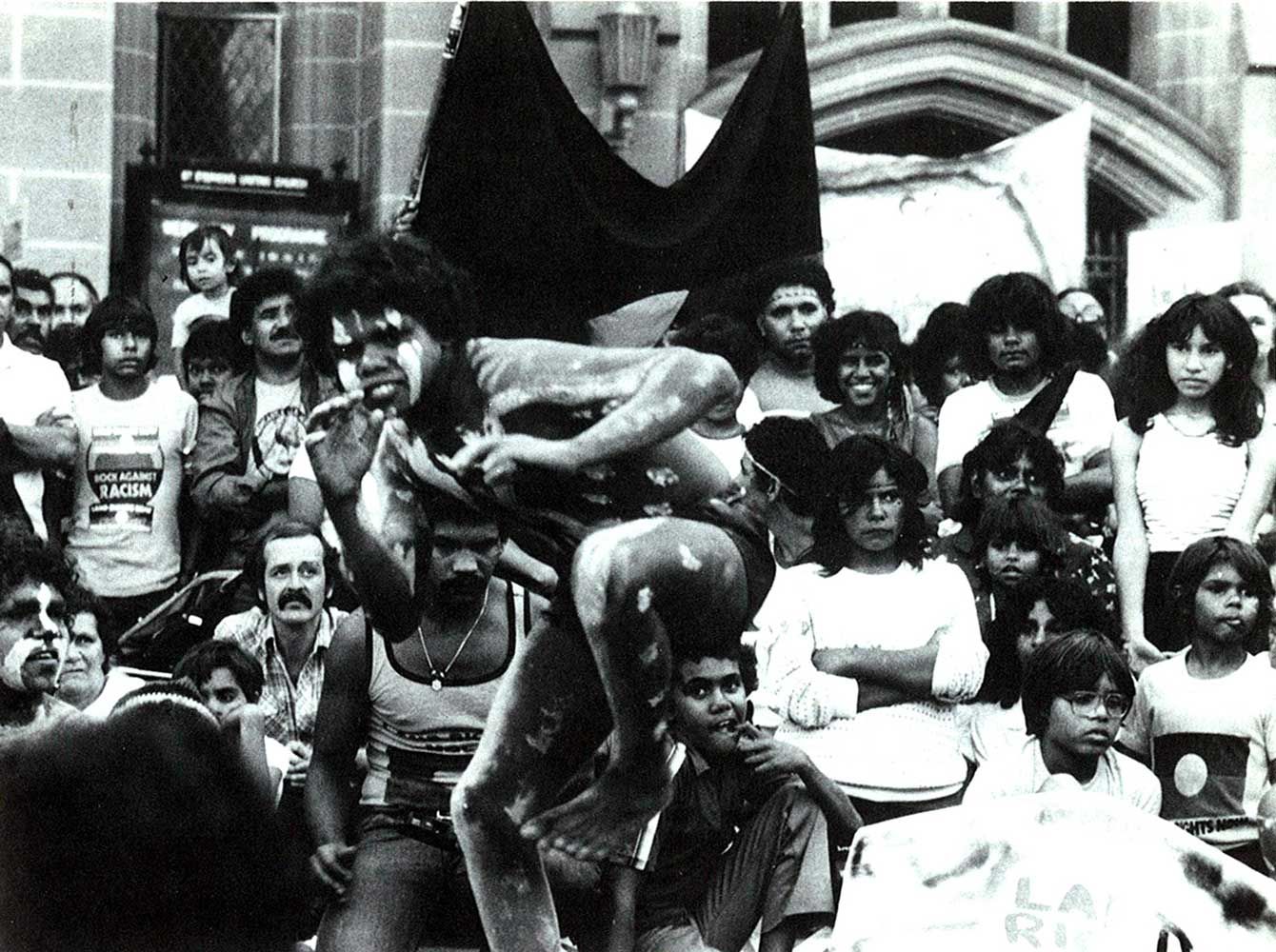 Dorsey performing traditional dance, employing the senses. Photo by Juno Gemes
After completing many different courses at TAFE, Dorsey was then accepted into the Bachelor of Fine Arts at the College of Fine Arts at UNSW. He began to be noticed, and his first exhibition was held at Boomali Gallery in 2005. He followed that up with a cultural tour of Africa, where he taught students and exchanged ideas about art.
Dorsey believes all humankind is connected by symbols. He's studied symbols and meaning from the cultures of the Druids, the Egyptians, the Mayans, the indigenous peoples of Australia and many other peoples. There are similarities in many stories and symbols and differences as well. 'The circle, for example, has sacred significance in many cultures, and it is this universality that I'm interested in.'
The Tree of Life is another image that has captured Dorsey's imagination. It also appears in many cultures. It is not necessarily the same type of tree, and what Dorsey is interested in is why it is significant in each culture. 'I looked at the Baobab trees in Africa. I looked at a tree that was at the back of the Kinchela Boys Home in Kempsey. I saw the similarities, the journey that is nature, the journey that is in us.'


(Left) Artworks in progress for V6_Storybook - Symbolism & Metaphor
In the recent past, Dorsey has been creating, painting, drawing, sculpting, writing songs and making short videos. He has recorded stories in both Dunghutti and English with images he has made. He says he wants people to soak up what they feel.
'Not only to see a work but to feel a work of art. If you really feel a work of art, if your senses are heightened, then there is more chance of people respecting the sacredness of the land and understanding the culture,' Dorsey says. 'There are Indigenous ways of learning that would benefit our education system.'
Dorsey and I are interested in cross-cultural learning. We want to promote different and alternate ways of classroom engagement.
Dorsey and I are working with imaginer. me, creating curriculum content that embodies a sharing of visual and spatial domains where all students, regardless of cultural background, can participate, learning about themselves and their journeys and about Indigenous culture. In his traditional culture, learning is about being allowed to gain knowledge at certain stages. However, Dorsey is reinventing the learning concept to allow non-Indigenous students to share in Indigenous learning methods. It's about sharing. It's transactional, allowing students access to other ways of learning that are visual, interactive, can be individual or group-focused and that foster skills in participation and higher-order thinking. Working with narrative-driven learning, visual learning and using collaborative methods can work across the curriculum and can bring about effective engagement with education.

'The programs Jo and I are designing are about bringing more Indigenous learning methods into the classroom that everyone can share in and learn from,' Dorsey says. 'It's a win-win.'
(Right) Totem Feeding Totem - by Dorsey Smith 2006
Acrylic on canvas 60cm x 60cm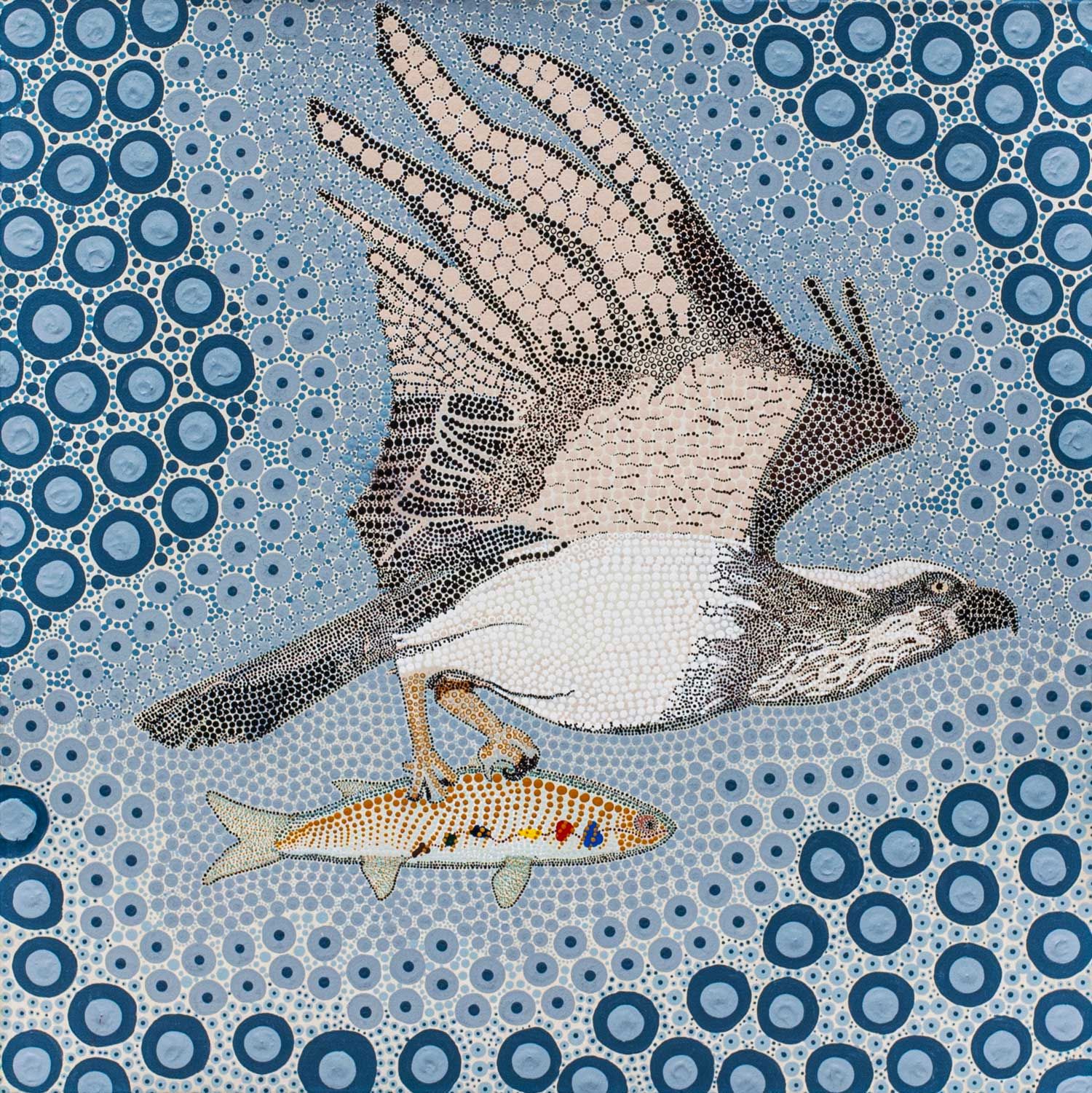 Jo Tuscano is an author of both fiction and non-fiction. She is a co-author of Back on the Block (ASP Publishing). Her two novels, The River Child and Under Andromeda, are coming this year from Odyssey Books. This Is Where You Have To Go, written with Lynda Holden and Malpa, written with Christine Palmer, are coming in the future. She is the creator of The Peach Program, a course for teachers to teach figurative language using visual learning, available soon from imagineer.me

Read more about Zak Grieve here: