V10_Buthi Storybook is a series of activities providing online classroom activities for pre-school and Early Learning.


The activities in this program are underpinned by Aboriginal Pedagogy, specifically the 8 Ways of Learning, and the 4C's.

The learning has a strong emphasis on visual/ spatial skills and oral methodology.
cross-cultural 21 st century skills for early learning
The 4C's and the 8 Ways
The 8 Ways come together in an innovative, cross-cultural, narrative driven learning map that focuses on pedagogy that is collaborative, imaginative, playful and that enhances language acquisition. It also builds a neural-linguistic skill base and respect for land, environment and culture.
The fusion of the 8 Ways, along with other traditional methods including the 4C's, gives all children the opportunity to learn from 8 interconnected pedagogies that enhance their Learning experience and build a solid skill base for future learning.
The activities in V10_Buthi Storybook are designed to give teachers the pedagogy and resources they need to be successful in the classroom with the 4 C's: Creativity, Critical Thinking, Communication and Collaboration and The 8 Ways.
Learning Outcomes
We believe that all Australians benefit from unique aspects of Aboriginal education. A broader understanding of Aboriginal and Torres Strait Islander practices starting in school helps with abstract thinking and imaginative outcomes. These directives are critical 21st century skills.
Visuospatial skill building (8 Ways)
Develops spatial temporal reasoning (8 Ways)
Builds visual literacy & transference skills (8 Ways)
Hand eye coordination
Spatial reasoning (8 Ways)
Discriminating between visual data (8 Ways)
Visual spatial perception (8 Ways)
Creativity (4C)

Symbolic understanding (8 Ways)

Creative play (4C)

Supports play and imagination (8 Ways)

Builds problem solving skills (8 Ways)

Prediction skills (rhyming lines)

Builds gross motor skills through physical role play

Supports fine motor skills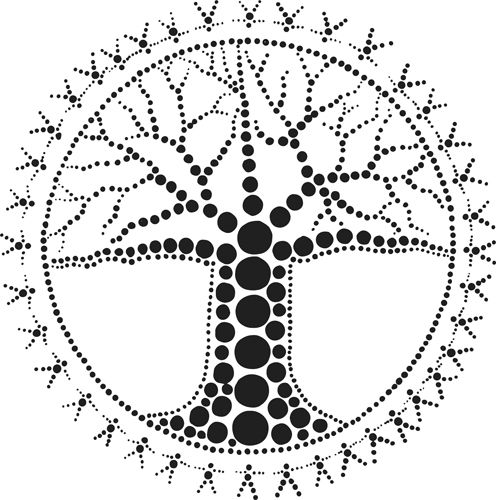 © Artist: Dorsey Smith
Sensory Textural Skills
Experience textural elements (8 Ways)

Heightens sensory processing (8 Ways)

Listening skills (8 Ways)

Supports identification and association of sounds

Builds aural processing skills
Community & Culture
Supports bi-lingual learning (8 Ways)

Builds vocabulary/phonological awareness (8Ways)
Sense of community (8 Ways)
Fosters collaborative learning (4C)
Narrative skills (8 Ways)
Communication (4C)

Experience textual elements (8 Ways)

Cultural information about food (8 Ways)
Builds confidence in cultural heritage (8 Ways)